NDSS Symposium 2014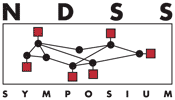 February 23-26 were the dates for the 2014 Network and Distributed System Security (NDSS) Symposium. The venue was the Catamaran Resort Hotel and Spa in San Diego, California.
This 3.5 day event, attended annually by researchers and practitioners from industry, academia, and government, featured presentations on original research and talks by industry leaders. Areas covered included distributed systems and networks, web security and privacy, intrusion detection and attack analysis, anonymity and cryptographic systems, security protocols and policies, languages and systems security, malware, spam and more.
New for 2014: SENT and USEC Workshops
NDSS 2014 featured two optional workshops, SENT and USEC.
Leaders in CyberSecurity
The Network and Distributed System Security Symposium fosters information exchange among researchers and practitioners of network and distributed system security. The target audience includes those interested in practical aspects of network and distributed system security, with a focus on actual system design and implementation. A major goal is to encourage and enable the Internet community to apply, deploy, and advance the state of available network and distributed systems security technology.
Who Attends
University Researchers and Educators
Chief Technology and Privacy Officers
Security Analysts and System Administrators
Operations and Security Managers
Attendance is limited to foster maximum exchange of information and ideas.
The NDSS Difference
At NDSS you will have the opportunity to benefit from:
Presentations of solution-oriented scientific and technical papers presented by leaders in the field
Experts debating new and practical approaches to security problems
Extended question and answer sessions following all presentations
Informal discussions with colleagues over the three-day period
CISSP Credits Available
The Internet Society is now an official CPE Submitter of the International Information Systems Security Certification Consortium, Inc. (ISC)®. Security professionals holding the CISSP credential will be eligible for up to 24 continuing professional education credits. An additional 8 credits will be available to those attending either of the optional Sunday workshops.