NDSS Symposium 2022 Call for Workshops
Call for Workshop Proposals is now closed.
NDSS Symposium 2022 solicits proposals for co-located workshops. Workshop proposals should include the following information:
Title of workshop
Type of workshop (Open or invitation only, discussion or paper based, etc.)
Technical description (including topics to be addressed)
Publication policy (with or without official proceedings; if papers will be published at the workshop or afterwards; proceedings will be published through the Internet Society)
Expected duration (full or half day)
Expected number of participants
Suggested review and publication timeline. For workshops with publication prior to the conference, the camera-ready deadline must be at the latest February 3 (for Sunday workshops) and February 7 (for Thursday workshops) . For post-conference publishing, we suggest a mid-March deadline.
Indicate your preference for a Sunday or Thursday workshop. Note that we will balance workshops, so this preference is not binding.
A brief biography of the organizer(s), including workshop or conference organizing experience.
A preliminary list of PC members the organizers wish to recruit
To expose young researchers to reviewing, NDSS welcomes concepts of involving junior members in workshop program committees.
Plans to host panels/keynotes, if any
Special meeting logistics requirements, if any
For established workshops: please include attendance and acceptance rates of the previous event.
Proposals should be no more than three pages in length and should be submitted by email to the Workshop Chairs by 10 October 2021 (AoE) with the subject "NDSS 2022 Workshop Proposal". Each submission will be acknowledged by email; if acknowledgement is not received within 48 hours, please contact the Workshop Chairs.
Please list the workshop name, all organizer names, and the preference for pre/post workshop publication in the email body.
COVID-19 Considerations: Decisions have not been made at this time about whether the symposium will be held in-person or online. As a consequence the Workshops may take place before or after the symposium.
Important Dates
Proposal to Workshop Chairs via email: October 10, 2021 (AoE)
Proposal acceptance notification: October 18, 2021
Workshop Potential Dates: February 27 or March 3 2022
Workshop Co-Chairs
Yasemin Acar – Max Planck Institute for Security and Privacy
Ben Stock – CISPA Helmholtz Center for Information Security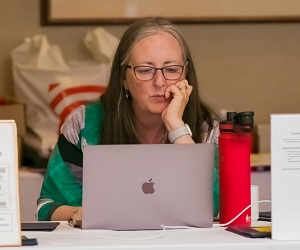 Submission Contact
Please direct your submission and potential questions to the workshop chairs.
Image Copyright: © Wes Hardaker