NDSS Symposium 2012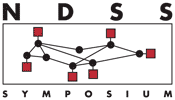 Date: 5 February to 8 February 2012
19th Annual Network & Distributed System Security Symposium
Network security technologies must respond to ever more complex issues and malicious behaviors. The purpose of NDSS is to bring the global Internet community together to learn about and discuss cutting-edge advances in the science and application of network and distributed systems security. The three day program features refereed paper presentations, punctuated by selected invited talks on security as it is applied in the field.
Leaders in Cyber Security
The Network and Distributed System Security Symposium fosters information exchange among researchers and practitioners of network and distributed system security. The target audience includes those interested in practical aspects of network and distributed system security, with a focus on actual system design and implementation. A major goal is to encourage and enable the Internet community to apply, deploy, and advance the state of available network and distributed systems security technology.
Who Attends
University Researchers and Educators
Chief Technology and Privacy Officers
Security Analysts and System Administrators
Operations and Security Managers
Attendance is limited to foster maximum exchange of information and ideas.
The NDSS Difference
At NDSS '12, you will have the opportunity to benefit from:
Presentations of solution-oriented scientific and technical papers presented by leaders in the field
Experts debating new and practical approaches to security problems
Extended question and answer sessions following all presentations
Informal discussions with colleagues over the three-day period
If you have questions regarding particular security challenges, bring them with you
We are pleased and honored to once again be sponsored by the Internet Society in 2012.
Sponsors
Companies and organizations interested in supporting NDSS '12 and gaining a high profile among security researchers and practitioners are invited to consider sponsorship. Available at four different levels, sponsorship includes a number of tangible benefits and recognition opportunities which will serve to demonstrate your support for network and distributed system security research, education and practice. Contact Mr. Kevin Craemer at [email protected] or +1.703.439.2131 for more information.
Venue and Hotel Information:
Hilton San Diego Resort & Spa