NDSS Symposium 2013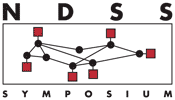 Catamaran Resort Hotel and Spa
San Diego, CA United States
Date: 24-27 February 2013
20th Annual Network & Distributed System Security Symposium
Network security technologies must respond to ever more complex issues and malicious behaviors. The purpose of NDSS is to bring the global Internet community together to learn about and discuss cutting-edge advances in the science and application of network and distributed systems security. The three day program features refereed paper presentations, punctuated by selected invited talks on security as it is applied in the field.
New This Year:  Attend NDSS and earn CISSP credits
The Internet Society is now an official CPE Submitter of the International Information Systems Security Certification Consortium, Inc., (ISC)²®.  Security professionals holding the CISSP credential will be eligible for up to 24 continuing professional education credits for participating in NDSS 2013. Interested participants will need to provide their certification number or (ISC)2® number at the NDSS registration desk, on site in San Diego.
Programme
More Information
Sponsorship
Companies and organizations interested in supporting NDSS and gaining a higher profile among security researchers and practitioners are invited to consider 
sponsorship
. Available at four different levels, sponsorship includes a number of tangible benefits and opportunities for recognition which serve to demonstrate your support for network and distributed system security research, education and practice. For more information, please contact Mr. Kevin Craemer at
[email protected]
or +1.703.439.2131.